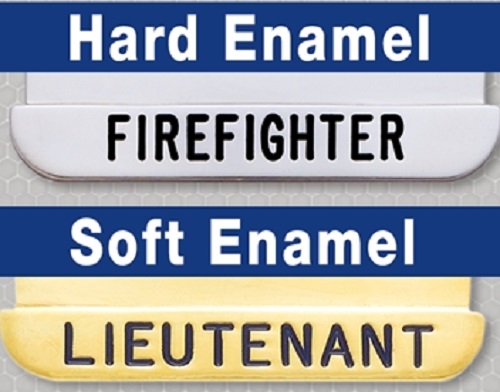 When building your Smith & Warren badge on badgeandwallet.com, you'll notice the option for soft or hard enamel. While the names might give you preconceived notions as to what these materials are, we wanted to clear the air and tell you a little about them. Afterward, you'll be able to choose which type provides the look and feel you like.
Soft enamel
When the lettering of your badge is colored using soft enamel, the color is applied into the engraved letters. If you ran your finger along the lettering, you'd be able to feel all the individual indentations and grooves of the lettering itself. The letters would feel and look indented.
Once soft enamels have been applied to our badges, they are cured and allowed to set for long-term durability. Soft enamel is included free with all Nickel, Rhodium and Gold Electroplate badges.
Hard enamel
Also known as Cloisonne enamel, hard enamel is actually real glass. We first apply glass powder into the engraved letters on your badge. The powder (along with a little water to make it easier to handle) is applied to each letter or design element by hand. We then fire it in a kiln at temperatures high enough to melt the glass – as much as 1,600 or 1,700 degrees Fahrenheit!
Once it's out of the kiln, additional applications of glass are added and subsequently melted until the glass overflows the letters. The excess glass is then sanded to the surface of the surrounding metal. The result is a smooth and shiny letter that looks and feels flush with the surface over the badge. Hard enamel is free with our Gol-Ray, Sil-Ray, Two-Tone and Cote D'or badges. It is available at an extra cost on Nickel, Rhodium, Gold Electroplate and Gunmetal.
Making your choice: you can't go wrong
Making a choice is not about which enamel is "better" than the other. Using one or the other boils down to your personal preference. Both materials are incredibly resilient and can withstand more than their fair share of wear and tear even without our exclusive ClearShield coating and Full Lifetime Warranty. You can rest assured that your purchase will truly stand the test of time. Both enamels also come in a variety of colors.