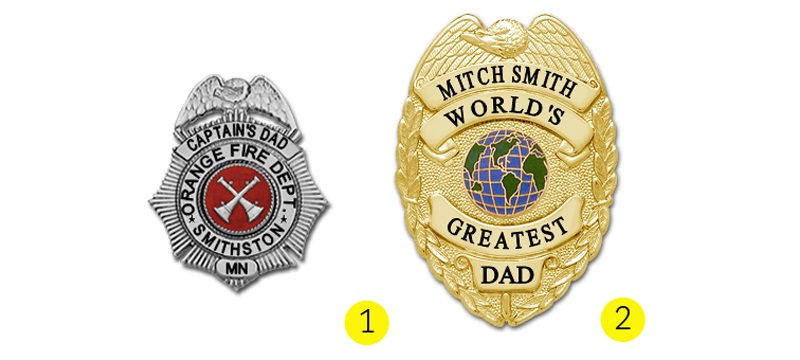 We know Mother's Day just ended, but Father's Day is coming up quicker than you think! Instead of buying your dad another knitted sweater this year, get him something he'll really love. We've put together this list of gifts for the dad in your life to make it easy on you (and him).
1. Family Badges
Family badges make the perfect Father's Day gift. Create a custom mini badge for your dad to wear on his jacket or hat or to put in a key fob or wallet. These high quality, lifetime-guaranteed badges will give your father the opportunity to show the world the pride he feels for all the hard work you do!
2. Full-Size "World's Greatest Dad" Badge
If your dad loves the idea of carrying his very own full-size badge, our custom badges are a great option. Customize any of our badges with your father's name and "World's Greatest Dad" or "#1 Dad" and make him the proudest man alive.

3. Custom Tie Bar
Our tie bars are high-quality accessories that your dad can wear with his suit and tie and feel the pride of being the father of a first responder. Customize any of our tie bars with your dad's name or "Firefighter's Son," "Officer's Son," etc... A truly great gift for the man who loves to dress up.
4. Badge Wallet
If your dad is in need of a new wallet, our leather badge wallets and cases are perfect for him! Choose from many styles and sizes and give him a truly practical gift. Pair this with a Family Badge or full-size custom badge so he can flash his pride every time he pulls out his wallet.
5. Uniform Accessories for your First Responder Dad
Whether your dad is a Firefighter, a Police Officer, a Paramedic, or any other first responder, we've got him covered. Choose from uniform accessories such as ticket books, hand cuff cases, flashlight holders, and much more!
Note: Standard production time for Family & Custom Badges, as well as Tie Bars is 4-5 weeks, so make sure you order in time for Father's Day delivery!