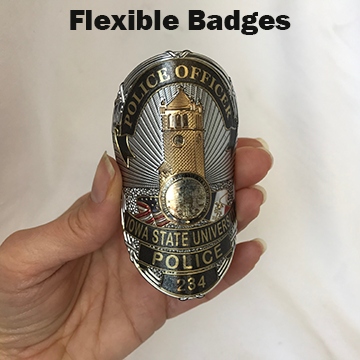 Flexible badges are lightweight metallic emblems that can be customized to look similar to your department's metal badges. Flexible badges can be used with many different types of fabric for today's active professionals.
Our flexible badges are fully custom emblems created based on your department's unique badge. Minimum order quantity is 50 pieces.
It is easy to get started with a custom flexible badge!
Step 1: Inspiration.  Provide us with photograph or artwork of your department's current badge.
Step 2: Creation.Using your image, our design team creates a technical design proof that brings your flexible badge to life. You will have the opportunity to review & make any necessary changes to the design.
Step 3: Manufacturing.Your custom flexible badges are manufactured and delivered to you in approximately 1-2 weeks.