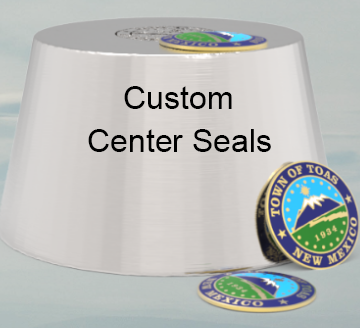 Whether you want to highlight a local landmark, showcase your official city, town or department seal or promote a distinctive logo, we can create a truly unique center seal for your badge.
Custom center seals can be designed to your exact specifications and work with any custom badge we offer. Seals can be designed and developed at NO extra cost for orders of 25 badges or more. And the best part? No minimum quantity on future reorders!
The custom seal process is easy!
| | |
| --- | --- |
| Step 1: Inspiration.  Provide us with an image to be used for your center seal.  Inspiration from your city, department, agency, or town is a great place to start.  We can also use a company logo. | |
| Step 2: Creation.  Using your image(s), our design team creates a technical design image that brings your seal to life.  You will have the opportunity to review & make any necessary changes to the design.  Once the design is approved, we use the image to create the mold that will be used to manufacture your custom seal.  | |
| Step 3:  Manufacturing.  The new mold is then used to create the seals for your badges.  The seals are stamped out of brass and colored enamel is baked into the design.  The completed seals are applied to the badges. | |
Project Costs:
Seals can be designed and developed at NO extra cost for orders of 25 badges or more.  For initial orders of less than 25 badges, there is a one-time setup fee:
| | | |
| --- | --- | --- |
| 1-4 badges | 5-24 badges | 25 or more |
| $500.00 | $250.00 | FREE |
The custom seal set-up fee is in addition to the cost of the badges.
Your seal will be kept on file so that any future orders won't have a setup fee or a minimum order quantity.
Do you have a design idea? Talk with one of our knowledgeable representatives to discuss and design a seal that works for you!